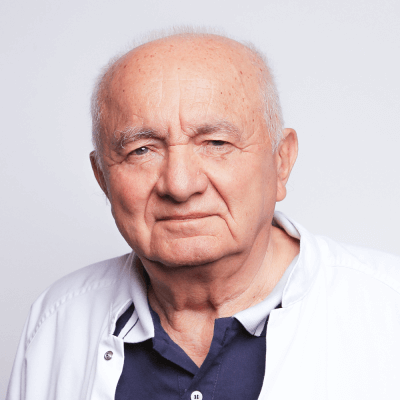 Dr. Tvrdoň epitomises everything we stand for and the clinic proudly bears his name. Following in the footsteps of his father Ladislav Tvrdoň, one of Slovakia's first dentists, he is the guarantee of the highest level of expertise and professionalism.
You can still meet him at our clinic on a daily basis and if you're interested in an extended lecture on stomatology, just ask him a question. After having lectured at the Medical Faculty of Comenius University as well as Oncological Institute of St. Elisabeth in Bratislava for 46 years, Dr. Tvrdoň has got a lot to say.
Throughout his career as a respected international authority, he has lectured at conferences all over the world ranging from the Loyola University in Chicago to Moscow and St. Petersburg. He holds more than 50 patents in stomatology, with quite a few of them contributing significantly to the advance of tooth care.
With his latest book having been published only recently, Dr. Tvrdoň never ceases to amaze us with his dedication. There can be little doubt, that for him, stomatology is a lifelong mission and passion.